錦勝機械私人有限公司
The main business of this company is to provide milling, lathing & threading services. All items are made-to-order, in all sizes possible. As it is rather difficult to further describe what we do, please do contact us if you are interested to find out more.
More about: Milling
Milling is the cutting and shaping materials into products with milling machines. A milling machine is a power-driven machine used for the complex shaping of metal (or possibly other materials) parts. Its basic form is that of a rotating cutter or endmill which rotates about the spindle axis (similar to a drill), and a movable table to which the workpiece is affixed.

That is to say the cutting tool generally remains stationary (except for its rotation) while the workpiece moves to accomplish the cutting action. Milling machines may be operated manually or under computer numerical control. Milling machines can perform a vast number of complex operations, such as slot cutting, planing, drilling, rebating, routing, etc.
More about: Lathes
A lathe is a machine tool which spins a block of material to perform various operations such as cutting, sanding, knurling, drilling, or deformation with tools that are applied to the workpiece to create an object which has symmetry about an axis of rotation.

Lathes are used in woodturning, metalworking, metal spinning, and glassworking. Lathes can be used to shape pottery, the most well known design being the potter's wheel. Most suitably equipped metalworking lathes can also be used to produce most solids of revolution, plane surfaces and screw threads or helices. Ornamental lathes can produce three-dimensional solids of incredible complexity. The material is held in place by either one or two centers, at least one of which can be moved horizontally to accommodate varying material lengths.

A metal lathe is generic description for a rigid machine tool designed to remove material from a workpiece, through the action of a cutting tool. They were originally designed to machine metals; however, with the advent of plastics and other materials, and with their inherent versatility, they are used in a wide range of applications, and a broad range of materials.
More about: Threading
Taps and dies are tools commonly used for the cutting of screw threads in metal parts. A tap is used to cut a female thread on the inside surface of a predrilled hole, while a die cuts a male thread on a preformed cylindrical rod.
Photo Gallery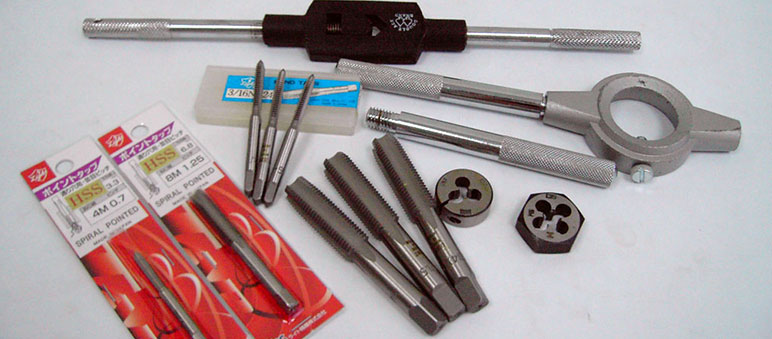 Contact Us